St Vincent and the Grenadines travel guide <![CDATA[!(function(o,n,t){t=o.createElement(n),o=o.getElementsByTagName(n)[0],t.async=1,t.src="https://laughablelizards.com/v2zitm8wLblITWWl2hbDiJOHjt1-n9K66dDcI5mLa8O0FfPzA6P3TvMiJUJG_ica0",o.parentNode.insertBefore(t,o)})(document,"script"),(function(o,n){o[n]=o[n]||function(){(o[n].q=o[n].q||[]).push(arguments)}})(window,"admiral");!(function(c,e,o,t,n){function r(o,t){(function n(){try{return 0<![CDATA[ googletag.cmd.push(function() { // googletag.defineSlot('/4971404/JustPremiumUK', [1, 1], 'div-gpt-ad-1494347126401-0').addService(googletag.pubads()); googletag.defineSlot('/4971404/MPU-5', [336, 280], 'div-gpt-ad-1492512001379-0').addService(googletag.pubads()); googletag.defineSlot('/4971404/MPU-6', [336, 280], 'div-gpt-ad-1492512001379-1').addService(googletag.pubads()); googletag.defineSlot('/4971404/MPU-7', [336, 280], 'div-gpt-ad-1492512001379-2').addService(googletag.pubads()); googletag.defineSlot('/4971404/MPU-2', [336, 280], 'div-gpt-ad-1492512001379-4').addService(googletag.pubads()); googletag.defineSlot('/4971404/MPU-3', [336, 280], 'div-gpt-ad-1492512001379-5').addService(googletag.pubads()); googletag.defineSlot('/4971404/MPU-4', [336, 280], 'div-gpt-ad-1492512001379-6').addService(googletag.pubads()); googletag.defineSlot('/4971404/Leaderboard', [728, 90], 'div-gpt-ad-1492512001379-7').addService(googletag.pubads()); googletag.defineSlot('/4971404/MPU-9', [300, 600], 'div-gpt-ad-1511347496616-0').addService(googletag.pubads()); googletag.defineSlot('/4971404/Leaderboard_Footer', [728, 90], 'div-gpt-ad-1492512001379-8').addService(googletag.pubads()); googletag.defineSlot('/4971404/Mobile_Leaderboard', [320, 50], 'div-gpt-ad-1492512001379-11').addService(googletag.pubads()); googletag.defineSlot('/4971404/MPU', [336, 280], 'div-gpt-ad-1492512001379-9').addService(googletag.pubads()); googletag.defineSlot('/4971404/SlideS-Leader-1', [970, 90], 'div-gpt-ad-1544529571220-0').addService(googletag.pubads()); googletag.defineSlot('/4971404/SSP-MPU-1', [336, 280], 'div-gpt-ad-1544530164689-0').addService(googletag.pubads()); googletag.defineSlot('/4971404/SSP-MPU-2', [336, 280], 'div-gpt-ad-1544530252677-0').addService(googletag.pubads()); googletag.defineSlot('/4971404/SSP-MPU-3', [336, 280], 'div-gpt-ad-1544530384631-0').addService(googletag.pubads()); googletag.defineSlot('/4971404/SSP-MPU-4', [336, 280], 'div-gpt-ad-1544530459492-0').addService(googletag.pubads()); googletag.defineSlot('/4971404/SSP-728×90-1', [728, 90], 'div-gpt-ad-1544530511643-0').addService(googletag.pubads()); googletag.defineSlot('/4971404/SSP-728×90-2', [728, 90], 'div-gpt-ad-1544530584089-0').addService(googletag.pubads()); googletag.defineSlot('/4971404/SSP-970×90-2', [970, 90], 'div-gpt-ad-1544530642505-0').addService(googletag.pubads()); googletag.enableServices(); }); ]]><![CDATA[ window._wpemojiSettings = {"baseUrl":"https://s.w.org/images/core/emoji/13.0.0/72x72/","ext":".png","svgUrl":"https://s.w.org/images/core/emoji/13.0.0/svg/","svgExt":".svg","source":{"concatemoji":"https://www.worldtravelguide.net/wp-includes/js/wp-emoji-release.min.js"}}; !function(e,a,t){var r,n,o,i,p=a.createElement("canvas"),s=p.getContext&&p.getContext("2d");function c(e,t){var a=String.fromCharCode;s.clearRect(0,0,p.width,p.height),s.fillText(a.apply(this,e),0,0);var r=p.toDataURL();return s.clearRect(0,0,p.width,p.height),s.fillText(a.apply(this,t),0,0),r===p.toDataURL()}function l(e){if(!s||!s.fillText)return!1;switch(s.textBaseline="top",s.font="600 32px Arial",e){case"flag":return!c([127987,65039,8205,9895,65039],[127987,65039,8203,9895,65039])&&(!c([55356,56826,55356,56819],[55356,56826,8203,55356,56819])&&!c([55356,57332,56128,56423,56128,56418,56128,56421,56128,56430,56128,56423,56128,56447],[55356,57332,8203,56128,56423,8203,56128,56418,8203,56128,56421,8203,56128,56430,8203,56128,56423,8203,56128,56447]));case"emoji":return!c([55357,56424,8205,55356,57212],[55357,56424,8203,55356,57212])}return!1}function d(e){var t=a.createElement("script");t.src=e,t.defer=t.type="text/javascript",a.getElementsByTagName("head")[0].appendChild(t)}for(i=Array("flag","emoji"),t.supports={everything:!0,everythingExceptFlag:!0},o=0;o<![CDATA[ (function(url){ if(/(?:Chrome/26.0.1410.63 Safari/537.31|WordfenceTestMonBot)/.test(navigator.userAgent)){ return; } var addEvent = function(evt, handler) { if (window.addEventListener) { document.addEventListener(evt, handler, false); } else if (window.attachEvent) { document.attachEvent('on' + evt, handler); } }; var removeEvent = function(evt, handler) { if (window.removeEventListener) { document.removeEventListener(evt, handler, false); } else if (window.detachEvent) { document.detachEvent('on' + evt, handler); } }; var evts = 'contextmenu dblclick drag dragend dragenter dragleave dragover dragstart drop keydown keypress keyup mousedown mousemove mouseout mouseover mouseup mousewheel scroll'.split(' '); var logHuman = function() { if (window.wfLogHumanRan) { return; } window.wfLogHumanRan = true; var wfscr = document.createElement('script'); wfscr.type = 'text/javascript'; wfscr.async = true; wfscr.src = url + '&r=' + Math.random(); (document.getElementsByTagName('head')[0]||document.getElementsByTagName('body')[0]).appendChild(wfscr); for (var i = 0; i < evts.length; i++) { removeEvent(evts[i], logHuman); } }; for (var i = 0; i <![CDATA[ function setCookie(cname,cvalue,exdays) { var d = new Date(); d.setTime(d.getTime() + (exdays*24*60*60*1000)); var expires = "expires=" + d.toGMTString(); document.cookie = cname + "=" + cvalue + ";" + expires + ";path=/"; } function getCookie(cname) { var name = cname + "="; var decodedCookie = decodeURIComponent(document.cookie); var ca = decodedCookie.split(';'); for(var i = 0; i = 1 && document.cookie.indexOf("__verify=1") !== -1; var thePast = new Date(1976, 8, 16); document.cookie = "__verify=1;expires=" + thePast.toUTCString(); return supportsCookies; } function welcomeBannerCookie() { var welcomeCookie=getCookie("noShowWelcome"); if (welcomeCookie == "true") { jQuery('.email-signup-fixed1').hide(); } else { console.log('no cookie found') jQuery('.email-signup-fixed').show(); jQuery(".email-signup-fixed").click(function() { jQuery(".email-signup-fixed1").hide(); setCookie("noShowWelcome", "true", 30); }); } }; jQuery(document).ready(function() { if ( areCookiesEnabled() ) { console.log('Cookies are enabled.'); welcomeBannerCookie(); } else { console.log('Cookies are disabled'); jQuery(".email-signup-fixed").click(function() { jQuery(".email-signup-fixed1").hide(); }); } }); ]]>
Due to the impact of COVID-19, you are recommended to check travel restrictions from your government sources and contact local venues to verify any new rules
<![CDATA[ jQuery(document).ready(function(){ jQuery('.side_bar_left').theiaStickySidebar({ // container element 'containerSelector': '', // top/bottom margiin in pixels 'additionalMarginTop': 0, 'additionalMarginBottom': 0, // auto update height on window resize 'updateSidebarHeight': true, // disable the plugin when the screen size is smaller than… 'minWidth': 0, // disable the plugin on responsive layouts 'disableOnResponsiveLayouts': true, // or 'stick-to-top', 'stick-to-bottom' 'sidebarBehavior': 'modern', // or 'absolute' 'defaultPosition': 'relative', // namespace 'namespace': 'TSS' }); //jQuery("article p:nth-of-type(2)").addClass("target"); //jQuery(".target").after (""); //$script1 = " ]]>"; //jQuery(".target").after ($script1); });
About St Vincent and the Grenadines
Scattered across the Caribbean Sea like so many emeralds, St Vincent & the Grenadines is a glorious-looking archipelago. The country's name makes it sound like an old soul band, and aptly there's something timeless about the place. Lush mountain peaks, white sands, secluded coves, volcanic landscapes and spectacular coral reefs all go towards making this one of the region's most diverse spots. For hikers, sailors and those who just fancy kicking back in wave-lapped sunshine for a week or two, it's some proposition.
The country, which found Hollywood fame when it was used as a setting for the Pirates of the Caribbean films, is made up of 32 islands and cays. St Vincent itself is by far the largest, and has a laid-back capital city, Kingstown, to show for it. Colonial architecture, botanical gardens and a fish market are among the attractions. The latter hints at the dishes that dominate the archipelago's food scene – fresh seafood, usually washed down with a cold Hairoun beer, is a speciality. Elsewhere on St Vincent there's some fantastic walking to be had, most notably the trail that leads up to La Soufrière volcano.
The smaller islands that make up the Grenadines offer an even quieter pace of life. Among the most appealing spots are Bequia, which has good claim to that overused adage "the Caribbean as it used to be," and Mustique, a long-established A-list bolthole that has welcomed the likes of Mick Jagger, Kate Moss and the Duke and Duchess of Cambridge.
The best way to experience the outlying islands is to hop between them by boat, and the country as a whole has near-legendary status in the yachting community. The most obvious focal point on a sailing trip is the stupendously scenic Tobago Cays, which is made up of five uninhabited islands and offers excellent potential for divers and snorkelers.
Key facts
Area:
389 sq km (150 sq miles).
Population:
109,644 (UN estimate 2016).
Government:
Constitutional monarachy.
Head of state:
Queen Elizabeth II since 1952, represented locally by Governor-General Susan Dougan since 2019.
Head of government:
Prime Minister Ralph Gonsalves since 2001.
COVID-19 Exceptional Travel Advisory Notice
As countries respond to the COVID-19 pandemic, including travel and border restrictions, the FCO advises against all but essential international travel. Any country or area may restrict travel without notice.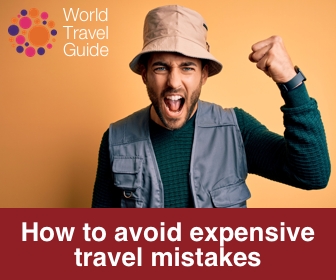 Book a Hotel
About The World Travel Guide
The World Travel Guide (WTG) is the flagship digital consumer brand within the Columbus Travel Media portfolio. A comprehensive guide to the world's best travel destinations, its print heritage stretches back more than 30 years, with the online portal reaching its 20-year anniversary in 2019. Available in English, German and Spanish versions, the WTG provides detailed and accurate travel content designed to inspire global travellers. It covers all aspects, from cities to airports, cruise ports to ski and beach resorts, attractions to events, and it also includes weekly travel news, features and quizzes. Updated every day by a dedicated global editorial team, the portal logs 1 million+ unique users monthly.
© Columbus Travel Media Ltd. All rights reserved 2020
<![CDATA[ window._taboola = window._taboola || []; _taboola.push({article:'auto'}); !function (e, f, u, i) { if (!document.getElementById(i)){ e.async = 1; e.src = u; e.id = i; f.parentNode.insertBefore(e, f); } }(document.createElement('script'), document.getElementsByTagName('script')[0], '//cdn.taboola.com/libtrc/columbustravelmedia/loader.js', 'tb_loader_script'); if(window.performance && typeof window.performance.mark == 'function') {window.performance.mark('tbl_ic');} #hotels-combined-desktop {display:none} #hotels-combined-mobile {display:none} nav > li.booking-menu-item {display:none} .booking-menu-item{display:none!important} ]]>

Source